AXELRAD CONCERT SERIES
Our concerts have been filled with music of all genres and styles. We have hosted jazz, soul, blues, latin, indie, electronic, experimental, world, ska, punk, pop, rock, classical, and more. Axelrad has a large outdoor music stage and 2 smaller indoor stages. The series highlights significant local, regional, and international artists for a free concert in a large outdoor and green space.
A FEW UPCOMING SHOWS:
THURSDAY SEP 19 DJ SUN, WRESTLERS 8:30PM
FRIDAY SEP 20 - GET A LIFE, MARLEY MOON, DJ E$ 7:45PM
SATURDAY SEP 21 INTERPOL (DJ SET), JEAN PAUL TIBLIER / MAIN OUTDOOR STAGE 10:30PM
SATURDAY SEP 21 MIEARS, MEMORY KEEPERS, TEE VEE / UPSTAIRS STAGE 8PM
SUNDAY SEP 22 HOUSTON JAZZ FESTIVAL 12PM
SATURDAY SEP 28 NITE, THE YOUNGINS, FUTURE GHOST, & MORE (NEON GARDEN) 7PM
FRIDAY OCT 4 DAPHNE TUNES, PEARL CRUSH, TOTAL CARE 8PM
SATURDAY OCT 5 TSUSHIMAMIRE, MARLEY MOON 8PM
SATURDAY OCT 11 NOCHE DE CUMBIA 7:30PM
SATURDAY OCT 18 EMILY WOLFE 8PM
SATURDAY OCT 19 NIGHT OF THE LIVING DEAD 8PM
THURSDAY OCT 24 FRIGHT NIGHT PARTY 7PM
FRIDAY OCT 25 NEW ORLEANS HUSTLERS BRASS BAND 7PM
SATURDAY OCT 26 THE OCTOPUS PROJECT, THE VAPOR CAVES & MORE (NEON GARDEN) 8PM
FRIDAY NOV 1 LOWER DENS, DEEP CUTS, SMALL CHAIR 7PM
SATURDAY NOV 30 BLACK TAFFY 7PM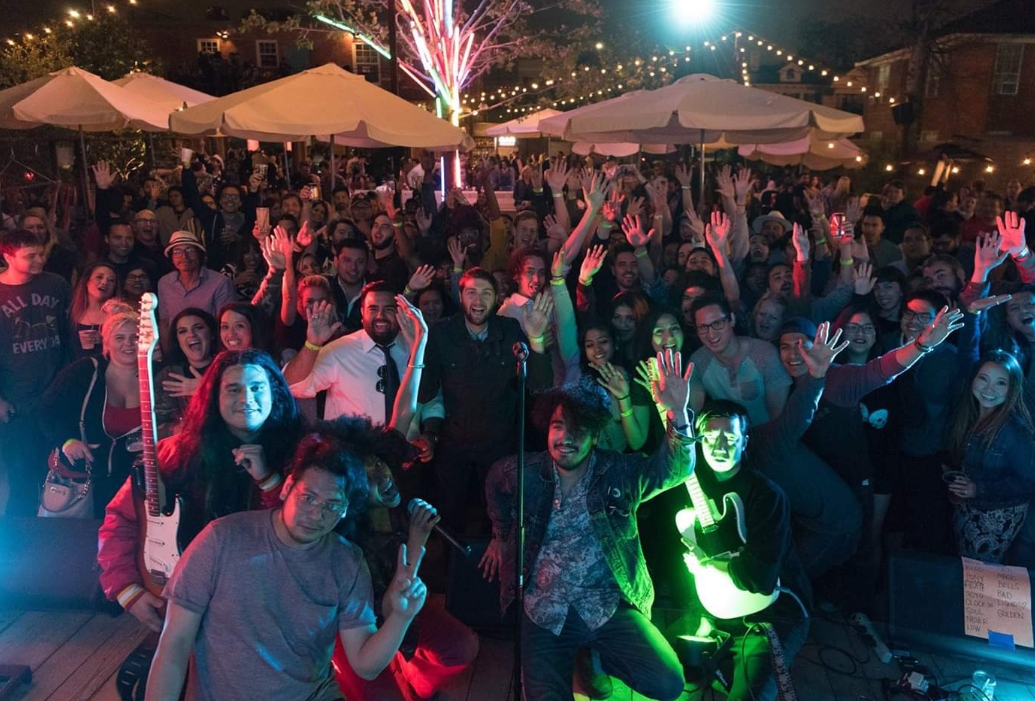 We have a large outdoor music stage and 2 indoor stages equipped with pro sound and light production. All Axelrad Concerts are entirely free and begin every Wednesday evening till Sunday evening. Axelrad hosts monthly residencies including our Jazz Wednesdays every week, Neon Garden synth series every last Saturday, Stacks Vinyl Night every 1st Thursday, and Latin Jazz every 3rd Sunday.
You can view our full upcoming music schedule on our calendar. We also provide live video streaming for a few of the concerts for music lovers that can't join us in person!
Our music programming is a collaboration with Wonky Power Records. If you are interested in performing at Axelrad please read below.
We receive many inquiries every week and we would love to have you perform! We need a few items of information in order for us to review all inquiries. Please fill out the form and we will get back to you for any opportunity.
Interested in performing at Axelrad?